This past year has not been kind to our high street retailers, nevertheless the popular streetwear brand, Supreme, appears to be stronger than ever. Amidst this year's football fever the nation saw British High Street staple House of Fraser fall into administration, Marks and Spencer close down several branches and we all waved goodbye to our childhood favourite, Toys 'R' Us. Be that as it may, with The Nursery's office just around the corner from Supreme's UK shop, I'm always struck by the queues of keen shoppers congesting Peter Street – waiting for Supreme's next 'drop'. This begs the question, what can the British High Street learn from Supreme?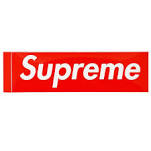 From the outside looking in, Supreme's retail experience is truly unique. They sell a variety of stock, from clothes and sneakers to tool boxes and inflatable chairs, with new items 'dropping' every Thursday. It's important to note that Supreme do not have an online shop so to buy anything with Supreme stamped on it you need to trek to Soho to get a piece of the action. The entrance to the shop is patrolled by a security guard to keep the crowds at bay and, what's more, customers camp overnight to secure a spot in Thursday's morning queue; eager to spend their money on anything 'Supreme'.
So, what is it about Supreme that encourages this behaviour? Is it the premium quality of the products, the cool-ness of the brand, or perhaps the opportunity and sheer anticipation to own exclusive items before anyone else?
What I find most interesting is how Supreme have managed to extend the retail experience from inside the shop to the streets. Regardless of what they actually sell, this group of shoppers are willing to camp overnight for a jumper and pair of socks. Now, I'm not saying Marks and Spencer's need a mob of shoppers waiting outside at the crack of dawn, or that Toys 'R' Us needed a bouncer outside controlling the swarms of parents and small children. But what's important is to be aware of the community that their brand serves. From a branding perspective Supreme have created a tribe of shoppers that unite in their love for them. So, my lesson to high street retailers is to not acknowledge shoppers as individual people or the one-off purchases, but as a collective group of people who are proud to shop there.
By Jack Ellingham